A funding arrangement of SBD1.4M to support provincial airfield upgrades at Seghe and Taro was signed on Monday at the New Zealand High Commission in Honiara between New Zealand Ministry of Foreign Affairs and Trade (MFAT), the Ministry of Communication and Aviation, and the Ministry of Finance and Treasury.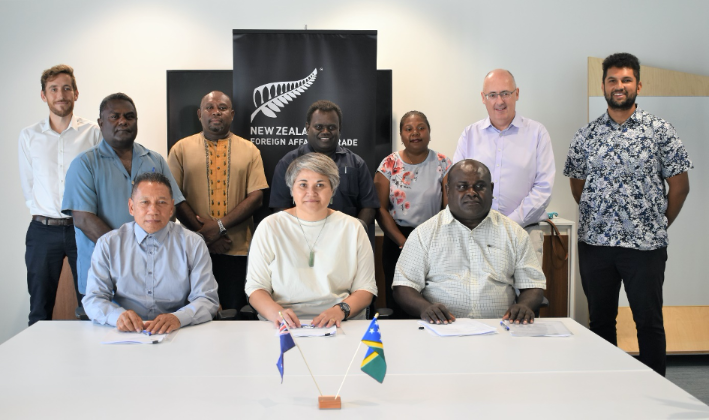 The agreement will enable major upgrades to provincial airports in Seghe and Taro, which will improve connectivity across Solomon Islands and increase economic development opportunities in Western Province and Choiseul. The arrangement signed on Monday will assist Solomon Islands officers to support the airfield upgrades, carry out monitoring, engage and consult with communities, and ensure social and environmental safeguards are in place.
The upgrades are currently estimated to cost around SBD240M, and include sealing and lengthening Seghe and Taro runways to make them all-weather and capable of landing the Dash-8 aircraft. The upgrades will be co-funded by New Zealand, Solomon Islands, and Australia.
High Commissioner Georgina Roberts noted the importance of partnership in delivering this critical infrastructure to benefit Solomon Islands communities. "In taking on this large investment we seek to practice kotahitanga to draw strength from our diversity and acknowledge that all of us have a unique but complementary part to play to ensure successful delivery of these airfields. The arrangement signed today articulates and confirms Solomon Islands Government's commitment to this project in partnership with New Zealand and Australia."
Minister of Communication and Aviation, the Hon. Peter Shanel Agovaka, acknowledged the hard work over the last few years from all parties to improve connectivity in Solomon Islands. "Our domestic partners, the Western Provincial Government, Choiseul Provincial Government, respective landowners, and the travelling public are looking forward to the implementation and completion of the projects," he said. "The National Government and relevant Ministries remain committed to ensuring this priority infrastructure project is completed."
Media contact:
Josephine Lagi NZ High Commission Honiara | phone: +677 21502 ext 712