The departure of the Solomon Airlines AIRBUS 320 flight IE715 from Brisbane International Airport around 9.30am on 30th March 2019 bound for Munda International Airport has marked the start of commercial services to Solomon Islands second international gateway. This followed a successful proving or test flight conducted by Solomon Airlines with the AIRBUS 320 aircraft on 23rd March 2019.
The Munda Airport Development Project started in 2011 with funding from the New Zealand Government and counterpart funding from the Solomon Islands Government (SIG). The initial goal was to turn Munda airport into an Emergency Alternate International Airport status for Solomon Islands and this will address safety and cut the extra costs borne by airlines flying to Honiara who had to carry extra fuel to find an alternative airport in other neighboring countries during an emergency. The outcome should reduce the cost of travel, promote business activities, promote tourism and improve safety to travelling public to Solomon Islands.
Munda Airport Development phase I involves the reconstruction of the Munda runway and with application of 3 coat seal on the runway strip, rehabilitation and sealing the 18 kilometer road link between Munda and Noro, reconstruction and sealing of Nusatupe airport in Gizo for all weather operation and setting up an airport management firm now called the Solomon Islands Airports Corporation Ltd (SIACL) to manage and operate all airports in Solomon Islands. All Phase I components were completed in 2014 except the setting up of SIACL to be completed in Phase II.
The Phase II implementation was conducted with financing from the New Zealand government with approximately (SBD50 million) and counterpart funding by Solomon Islands Government of nearly (SDB20 million) to upgrade the airport to emergency alternative international status.
The improvements will bring a range of benefits to the people and the government of the Solomon Islands including; increased safety in Solomon Islands airspace; passenger movements; increased tourism to Western Province; improved safety for larger aircraft; opportunities to expand services in Munda to international flights; increased airline networks and connectivity; increased aviation freight and further government revenue from the aviation sector.
In 2018, Solomon Airlines and Ministry of Culture and Tourism (MCT) through the Solomon Islands Visitors Bureau(SIVB) approached both governments to turn Munda Airport to fully pledge international airport and that Solomon Airlines will make weekly flights to Munda.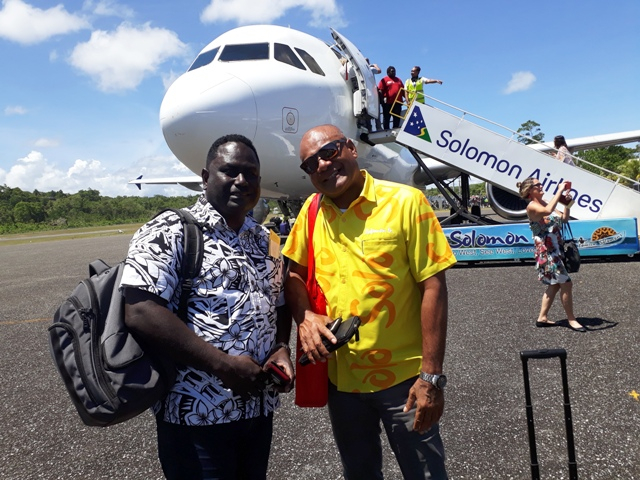 This changed the initial scope and calls for reassessment of the runway and providing extra facilities like terminals and meeting regulatory requirements and delayed the completion of the airport. Solomon Islands Government had to build temporary terminal facilities and clear Obstacle Limitation Surface (tree clearing etc.) and submit application to our regulator to certify airport for international operations and all that was completed a week before the test flight on 23rd March 2019.
Phase II started in 2016 with signing of the Grant Financing Agreement by New Zealand and Solomon Islands Government and practical completion attained in February 2019.
Completing Munda Airport Development Phase II wasn't easy with many challenges but with many in support of the project and foremost the people of New Zealand for the grant assistance that enables this project.
Permanent Secretary of Aviation and Communication, Moses Virivolomo thanked the New Zealand High Commissioner and his former and current Office staff who worked hard with their counterparts in Solomon Islands Officials to realize this crucial piece of infrastructure development in Western Province.
He also thanked the landowners, chiefs, men, women and children of Munda who have shown goodwill and partnership in hosting this wonderful piece of economic infrastructure in Munda.
He further thanked the province, all government ministries, the most successful MCA Airport Taskforce members and all MCA staffs who toil day in day out to make sure our aims are achieved.
Mr Virivolomo also acknowledged Solomon Airlines, all contractors involved and all tourism operators in Munda and Western province for the support rendered during the implementation of this project.
"To the people of Munda please respect the newly built airport and facilities and utilise the services provided by operators to fully engage in economic activities and benefit themselves and the community at large," he urged.
The Ministry of Communication and Aviation (MCA) is committed to improve access and connectivity in the aviation sector and in 2018 to put into operation all unoperational airports in Solomon Islands and have a full plate this year 2019.
The MCA is starting to prepare the Honiara airport improvement Project (JICA grant funding); prepare the Solomon Islands Road and Aviation Project (World Bank credit/grant); start Provincial Airport Improvement (New Zealand grant); continue Kirakira, Ramata and Rennell pavement upgrade and assessment to open Anuha, Avuavu, Babanakira airports.
The New Zealand High Commission Mr Don Higgins; Premier Western Province; Attorney General and Chairman Civil Aviation Authority Solomon Islands, Mr John Muria; Permanent Secretary MCA, Moses Virivolomo and Director Acting Civil Aviation Authority Solomon Islands, Mr Brian Halisanau are part of the Solomon Airlines invited guest on-board the inaugural flight.
The official opening and handing over of the Munda International Airport and launching of the airport management firm SIACL will take place around June 2019 when the new Government is in office.