THE Solomon Islands Government has signed historical air service agreements with the Governments of the United Arab Emirates (UAE) and Turkey, the Prime Minister's Office said.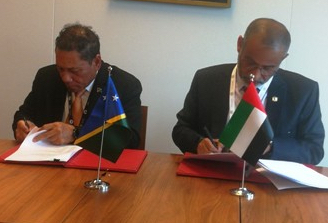 Minister of Communication & Aviation Peter Shanel Agovaka signed the agreements recently, which now open up the opportunity for both countries and their designated carriers to formalize services between themselves. The partnerships and codeshares with such long haul carriers can benefit Solomon Airlines.
"However, flights directly between Solomon Islands and these countries will be operational in the near future because of the level of aviation activities in Solomon Islands," Minister Agovaka outlined.
Solomon Islands signed the ASA/MOU with the Government of the United Arab Emirates on 30th September 2019 and signed a similar MOU with Turkey on the 3rd of October 2019.
Ongoing positive discussions are also in place between the National Government and the Republic of Indonesia to also sign a similar MOU before the end of this year.
The signed ASA/MOU with these countries allow Solomon Airlines to access partnerships with two vibrant aviation nations which are hubs in Asia and middle-east regions that will boost strong growth both in aircraft purchases and growing passenger numbers in the aviation sector.
"The agreement will foster more opportunities amongst signatories with tremendous advantages and far-reaching benefits to our economies," Minister Agovaka said.
He said under the DCCG policy implementation, Solomon Islands is also exploring ASA/MOU with Japan, United States, and China; and to review the ASA/MOU with New Zealand, Papua New Guinea, Kiribati, and Fiji.
This review he said, will emphasize reciprocity, fairness and freedom rights in all our Air Services Agreements.
"These agreements will allow our national carrier to expand its network with more code-share agreements, seamless travel for passengers and direct flights in future, offering more options and connectivity," he said.
Minister Agovaka said the Asia and Middle East regions are amongst the fastest growing economies in the world and such bilateral agreements will no doubt have spin-offs with tourism, trade and business activities; enhanced by better global connections and at the same time boost our local economy.
The signings were done at the margins of the 40th International Civil Aviation Organization Assembly (40 ICAO Assembly) held at ICAO Headquarter in Montreal, Canada from 24 September-4 October 2019.
The Solomon Islands delegation was led by the Minister for Communication and Aviation, Permanent Secretary for Communication and Aviation Mr. Moses Virivolomo; and the Director Civil Aviation Authority (Acting) Mr. Brian Halisanau.
The ICAO Assembly is the organization's sovereign body. It meets at least once every three years and is convened by ICAO's governing body, the Council.
ICAO's 193 Member States and a large number of international organizations are invited to the Assembly, which establishes the worldwide policy of the Organization for the upcoming triennium.
Solomon Islands attendance at the ICAO is crucial as Solomon Islands is leading and co-sponsoring a Working Paper by 13 Pacific Small Islands Development States.
The Working Paper requests ICAO to provide adequate resources to complete a needs analysis study aimed at identifying areas to address and raise compliance in the aviation industry in each pacific states.
This working paper was passed under the term of "No Country Left Behind" in the advancement and reaping benefits to each state in the aviation industry.
Meanwhile, environmental issues including aviation emissions crucial to Pacific Island States were also discussed with ICAO. Discussions were aimed at reducing aviation emissions through various agreed methods and become carbon neutral by 2050.