Senior officials from Solomon Islands and New Zealand successfully concluded their two-day negotiations to renew the Air Service Agreement (ASA) between the two countries.
The new Air Service Agreement will replace its predecessor agreement, that was signed in Honiara on 30 May of 1990.
The new Air Service Agreement will establish a framework of cooperation in the aviation sector between Solomon Islands and New Zealand, and embraces contemporary practices in the aviation industry, characterized by a more modern outlook on the collective vision of both countries to enhance their partnership and foster greater collaboration in the realm of air connectivity.
The initialling of the new agreement's consolidated text took place in Honiara on 20 July 2023, between the Chief Negotiators, Mr. Collin Beck, Permanent Secretary of the Ministry of Foreign Affairs and External Trade, on behalf of Solomon Islands, and Ms Sonya van der Geer, Chief Air Rights Negotiator and Principal Adviser of the Ministry of Transport, on behalf of New Zealand.
Speaking at the initialling ceremony, Permanent Secretary Beck expressed the new Air-Service-Agreement will foster a new era of cooperation and connectivity, strengthening the bilateral relations of Solomon Islands and New Zealand.
The Permanent Secretary also acknowledged Solomon Islands aviation stakeholders who were instrumental in ensuring the successful outcome of the ASA negotiations, including the Ministry of Communication & Aviation, the Ministry of Culture and Tourism, the Civil Aviation Authority of Solomon Islands, and Solomon Airlines Limited, who were also part of the Solomon Islands delegation.
Through the new Air Service Agreement framework, Solomon Islands hopes to see increased opportunities enabling people-to-people connections, strengthened economic growth, and promotion of tourism and economic activities.
A Memorandum of Arrangement was also signed by the Chief-Negotiator, to submit to their respective Governments for approval and authorization to sign the new Air Service Agreement.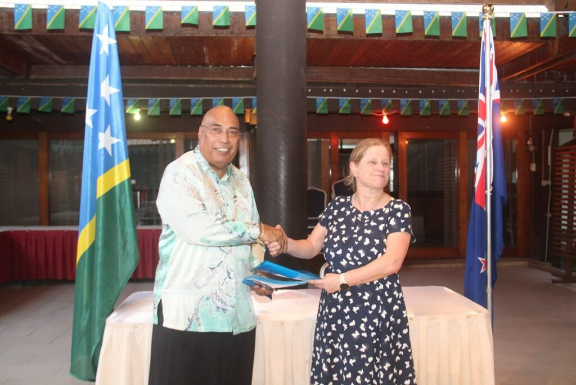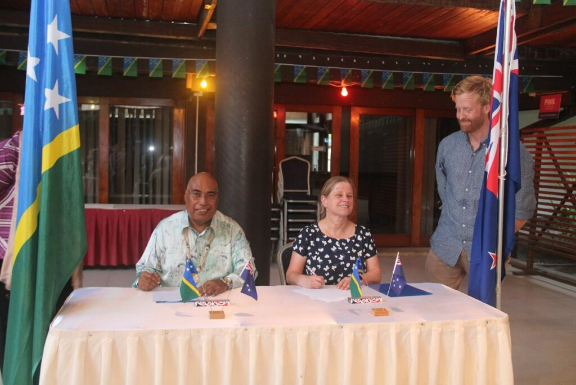 Source: MFAET Press Release