The Solomon Islands Government through the Ministry for Communication and Aviation (MCA) announced the county's third Inclusive Digital Economy Score during a consultation session at the Heritage Park Hotel in Honiara today Tuesday 15th August 2023.
More than 70 principal digital economy stakeholders from the government, private sector, and academia were involved in the deliberations.
This is the third year that the Solomon Islands measures their Inclusive Digital Economy Score, IDES, as it was among the first four countries in the world to pilot the IDES in 2020.
The IDES measures the nation's progress across four main pillars: infrastructure, policy & regulation, skills, and innovation.
The Solomon Islands IDES score has continuously improved from 39% in 2020, 41% in 2021 to 43% in 2022.
In his opening remarks during the consultations, Permanent Secretary of the Ministry of Communication and Aviation, MCA, Mr. Moses Virivolomo said as Solomon Islands strive to leverage technology within the digital economy, let us keep in mind the broader canvas of connectivity, policy, E-governance, and E-services.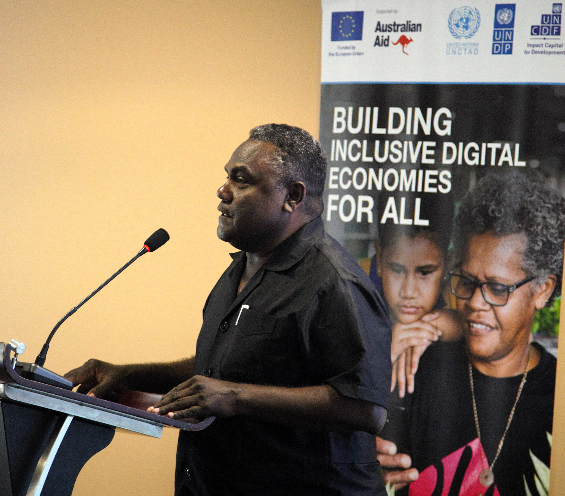 "By dissecting these elements and reflecting upon their alignment with the Scorecard's principles, we can collectively pave the way for a future where every citizen of Solomon Islands is an active participant in the digital transformation," said Virivolomo.
Also speaking during the consultations, The Central Bank of Solomon Islands Governor Dr Luke Forau emphasized the need for interoperability saying we stand at a crossroads where we can either choose to address the access issue by creating alternative digital channels or by expanding brick & mortar access points.
"Whichever path we choose, leveraging technology, fostering interoperability, promoting digital and financial literacy, and utilizing the regulatory sandbox will be crucial pillars of our success," said Dr. Forau.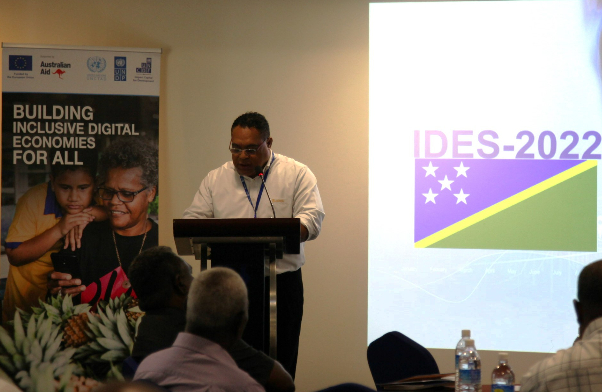 Discussion of the IDES celebrated progress made in recent years, such as the launch of the National E-commerce Strategy, improvements in connectivity, and the emergence of digital financial services in the market, such as EziPei, Iumicash and M-SELEN.
It also identified anticipated high-priority projects such as the National E-governance Strategy that MCA is developing, and the national telecommunications shared tower project.
The Solomon Islands Government is committed to accelerate digital economy transformation, both in terms of inclusion and development.
This new focus of government, reflected in the emergence of national strategies to lead it, presents a unique window for policymakers to place inclusion at the center of their strategy development and to garner broader support for inclusive policy actions.
Deputy Secretary Technical from Ministry Of Commerce, Industry, Labor & Immigration, MCILI, Eric George said his ministry is committed to playing a leading role in steering innovation and nurturing tech-entrepreneurial start-ups.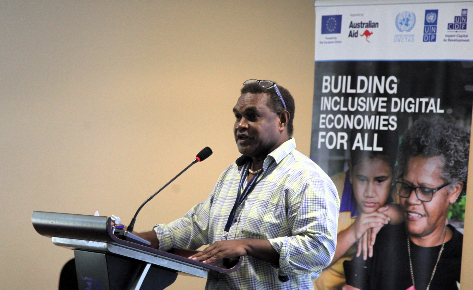 "We recognize that fostering a conducive ecosystem for innovation is imperative for our nation's economic progress.
"By supporting startups and small businesses in the tech sector, we aim to stimulate job creation, drive local innovation, and bolster economic diversification," said Mr George.
UNCDF Country Coordinator, Sam Mulawa said IDES is a government tool that is used globally, it helps them measure and track digital economies, identifying markets constraints whilst setting the right priorities.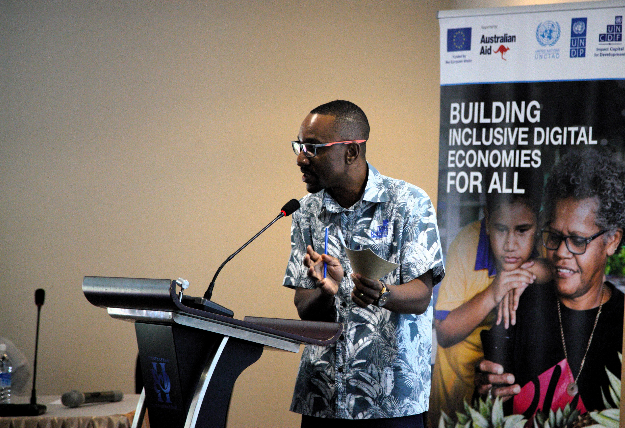 "Since its launch in 2020 with 4 pilot countries (Uganda, Burkina Faso, Nepal, and the Solomon Islands), IDES is now formally adopted in 7 countries with another 18 countries engaged in its implementation in Africa, Asia, and the Pacific," said Mulawa.
The work around IDES is part of UNCDF's Pacific Digital Economy Programme, which is supported by the Government of Australia under the Solomon Islands-Australia Partnership and by the EU.
ENDS///